With Dippy the Dinosaur making his long-awaited visit to Norwich in July 2021, it's all about dinosaurs this summer. A range of Jurassic events are taking place across the city to coincide with Dippy's visit- find out more below.
Dippy on Tour at Norwich Cathedral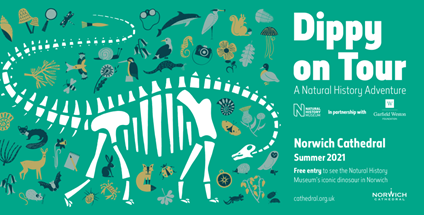 After his visit to Norwich was postponed twice due to the COVID-19 pandemic, Dippy the Diplodocus – a 26-metre dinosaur cast – is finally making his way to the city for the last stop on his UK tour. His normal home is in the Natural History Museum where he can be found in the entrance hall, but from 13th July to 30th October 2021 he will be staying in the Nave of Norwich Cathedral. Alongside Dippy, the Cathedral will also be hosting other prehistoric events- this includes dinosaur-themed workshops, a time tunnel in the cloisters, films nights and, on Fridays, the cathedral will be open late.
Dippy on Tour exhibition is free to enter and there is no need to book. Find out more at https://dippy.cathedral.org.uk/
GoGoDiscover Dinosaur Trail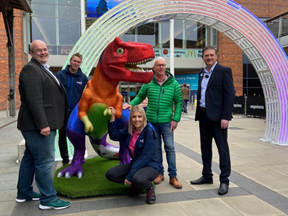 Norwich's annual art trail will this year feature Tyrannosaurus Rex sculptures which can be found around the city. The trail is organised by local charity Break and will feature 21 individually designed T-rex dinosaurs located in the city guiding the route to Norwich Cathedral and Dippy the Diplodocus. Explorers of all ages can take part and download a map to have fun, learn more about the city, and raise money for Break charity who support vulnerable children and young people across East Anglia.
The Jurassic trail will be on the streets of Norwich from Monday 12th July until Saturday 11th September 2021.
Brick Dinos Exhibition at the Forum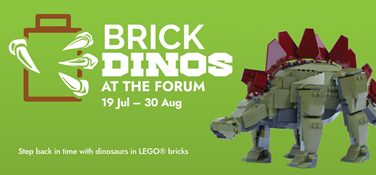 Brick Dinos is a free, family-friendly exhibition taking place at the Forum in Norwich featuring a huge selection of dinosaurs created from LEGO® bricks. Developed by artist Warren Elsmore in conjunction with palaeontologists, the exhibition will include a range of prehistoric creatures, from tiny insects to a four-metre-long raptor-like Masiakasaurus.
The exhibition is open from 19th July to 30th August 10am-5pm. Entry is free but online pre-booking is required. Book online at https://theforumnorwich.co.uk/whats-on/brick-dinos?start_time=2021-07-19T00.00.